This 'boy' is killing me.  To say I am a Usain Bolt fan is an understatement.  As a matter of fact Bolt has absolutely nothing to prove let us get that straight.  I have written sufficiently on who this dude is based on his performance on the track.  That is where I rest my case,  voice my opinions at times appearing belligerent with no apologies.  Yes……………I take by fanaticism quite seriously, never a 'waggonist' never one to disrespect the man who delivers 99% of the time when it matters.  I have one weakness, I am human and every time the BIG is fast approaching, the butterflies begin.  I cannot tek di pressure.  Right about now, I am contemplating whether to watch this race at all.  I go through the same emotions pretty much and always, always get up,  hunch myself over as if I am entering the TV.   Every bone, cells, muscles, limbs on and inside my body, blood begin to bubble up, getting into overdrive with the mouth wide open, voice projection increasing, heart racing like the speed on a ferrari………………..
What is going to happen in London?  They are calling up some names and one youngster it is said a run up him mout.  I tell you something, I have read his words as quoted in the Daily Mail, and I say this to the youngster, it is all good.  By your own words, you acknowledge there no rivalry between you and Bolt.  You must first beat the legend before there can be a rivalry and that has not happened.  Recognising  Bolt has done it all on track n field, knowing he has officially packed it in, whatever happens thereafter having the opportunity of being in a final with the 'big man' can only bolster your form and career.
Snippet from the Observer, 'De Grasse, who only took up athletics aged 17 after trying his hand at basketball, says he needs to beat Bolt before he can be described a rival.
"It's not a rivalry," he told the Daily Mail.
"He has dominated for so long. I've still not beaten him — but I'd love to. To have a rivalry you have to have a back and forth.
"He is on his way out and a veteran. I'm trying to prove myself."'
As a bonafide Bolt fan, I have no beef with your words.  Only to say this, beating a Usain Bolt one time, 2 or even three times may create hype, duplicating Usain Bolt records of achievement on the track is a total different ball game.  In this life time, you will have one opportunity, lost chance for a rivalry, but duplication of a 1, 2, and 3 'Gold' medals on an Olympic podium in addition to his other accolades?????……………Come on now you undercover disrespectors of the 'big man', or brazen naysayers who always seem to have dementia when Bolt is about to grace the stage…………Talk to me when that is accomplished and let it be in my life time or else!!!!!!!
Disclaimer
—————-
All information provided on this blog is read by you of your own risk.  Any material extracted it is done of your own free will.
I am the legal copyright owner of the  material provided on this blog. Therefore such cannot be used, reprinted without the consent of the owner  The material provided is purely for entertainment purposes and not recommended for readers to treat as gospel.  Information that is not of my opinion is readily available as the source of content is accessible.  I reserve the right to shut down this blog, change the focus at my discretion.  At no time will I share personal contact information to any entity, company or platform. 
Any letters to the editor, tweets, emails will be used as feedback, reference for commentary  if deemed necessary.  The writer of those will be the owner.
Email fireicedsa@hotmail.com with your comments
====================================================
.@usainbolt is all smiles at the Puma press conference at The Brewery in London.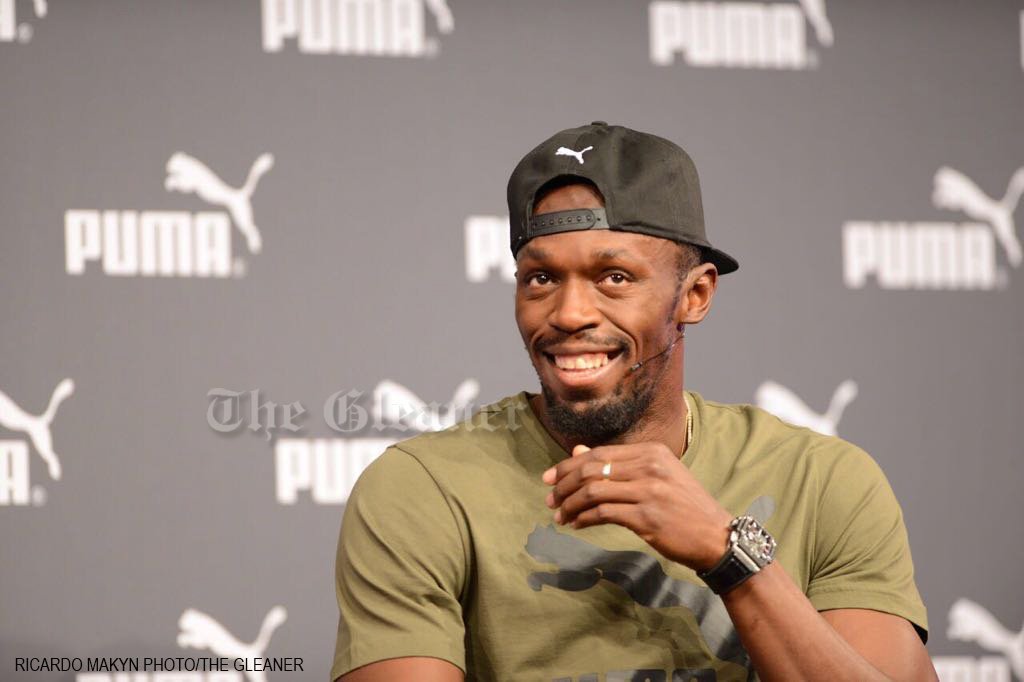 (Jamaica Gleaner) Tuesday 1 August 2017
LONDON, England:
Sprint king Usain Bolt may not have had the best build-up to the 2017 World Championships, which gets going later this week, but the Jamaican says he has no doubts about his readiness to defend his 100m title inside the London Olympic Stadium on Saturday.
Bolt will take his spot in Friday's heats with a point to prove after only going under 10 seconds once this season in his three starts in the event; representing his least convincing season.
His form has led to a number of the world's upcoming athletes expressing added confidence that the eight-time Olympic champion is vulnerable.
However, Bolt said he is certain that he will be able to again top the podium at a major championship and secure what would be his 12th gold medal at the World Championships.
"Yes, without a doubt (I am ready)," Bolt told reporters on Monday. "If I show up at a championship; if I am here, then it means I am fully confident and ready to go. As long as I show up and my coach is happy, then I am ready to go."
"The last race I ran was 9.95 seconds and it shows I am going in the right direction. After these two races in the 100m I am always going forward. It's a championships, it's all about who can keep their nerve. I have been here a lot of times. It's go time!" Bolt added.
Bolt also received a specially-designed pair of purple and gold spikes from his long time sponsors Puma with the sprinter himself explaining that he purple represented the colour of his high school William Knibb Memorial High with the gold of course covering his gold medal laden career.
Bolt was of course asked about the threat of young sprinters such as Andre de Grasse, who has publicly stated that he believes he is capable and ready to dethrone Bolt this weekend, with the Jamaican underlining his fitness and mental fortitude ahead of what should be an exciting clash.
He also added that he will be dedicating his competition to deceased friend and former Jamaican – born British high jumper Germaine Mason who died earlier this year in an accident.
The world's media is waiting to hear from @usainbolt ahead of his @London2017 swan-song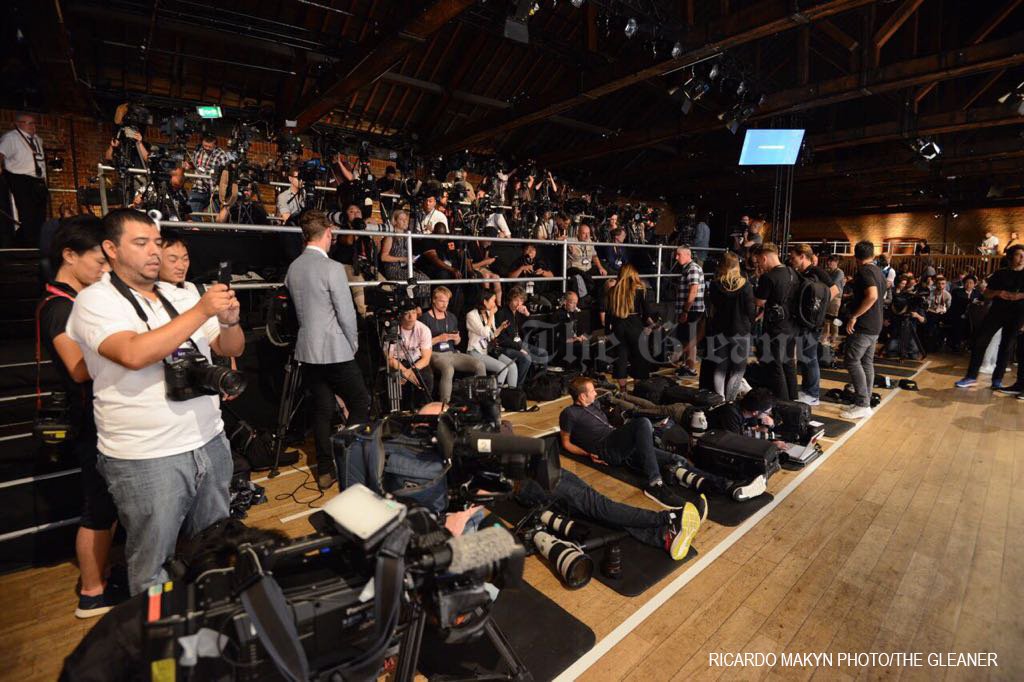 Journalist packed inside the Brewery in London for the PUMA @usainbolt press conference