'A mi fi tell u.  Dis Sunday maarning mi was close to di heart attack.  No sah, mi feel mi heart a thumb wey harder dan wen 'Bolt' a run and dat is saying summen'.  These ladies had me up and down from the race started at after 7.00am JA time as if I was doing squats which I do not do.  I literally almost pass out when Felix in fine form took the lead, held the lead in her change over and the Jamaican was now in second place.  When I saw the Jamaican gaining ground, 'dat a wen mi reach pon di ground flat out.  Tank God dis yah World Championship dun as mi nuh know if mi wouda  live fi mek it a Rio which mi plan fi go'.
Come on this performance for me was by far the most titillating, exhilarating, outstanding run from a young lady who believed that winning was achievable coming from behind.  Not just gaining a medal but GOLD was the ultimate for her and the team, and my word she delivered in magnificent style.  I cannot stand the pressure that these Jamaican athletes put me under, but I tell you they deserve every accolade, financial gain, recognition as they are in a league of their own. 
We must acknowledge each and everyone of them for not only making the finals, but giving their all.  The display of heart, guts, where with all under the highest pressure imaginable saw our athletes excel beyond.  'Mi a try simmer down as every time mi tink pon di race dem, mi blood start to bubble.  I mus lef youtube alone and stap relieve the moment.  It gaan but I tell u it still sweet fi watch ova and ova again'.
---
PHOTOS: How the golden girls celebrated the 4X400m relay win
(Jamaica Gleaner) Sunday | August 30, 2015
Jamaica's Novelene Williams Mills ran a fine anchor leg in the women's 4X400m relays to secure gold for the quartet which also comprised Christine Day, Shericka Jackson and Stephenie Ann McPherson.
It was the first time since 2001 that Jamaica was winning gold in the World games.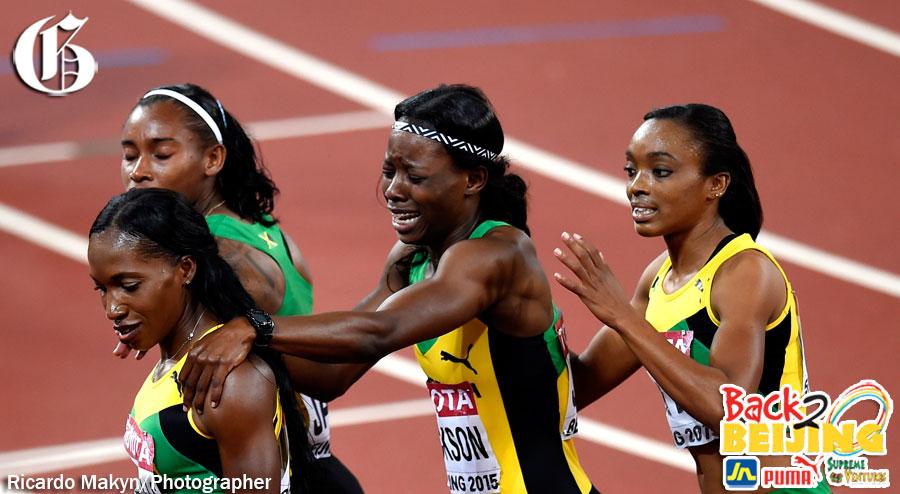 Photographer Ricardo Makyn was at there to capture the moments of success.