You do not need to be a sports enthusiast to get excited when the Olympics are in full swing.  You just have to have love for your country, respect for all our athletes who put in the time, effort, commitment and consistency to be seen on such a platform.  The money, wealth, bling, floss cannot come until they have delivered, until they have been recognised where it matters and for that it takes an exceedingly amount of discipline and consistency.  Despite their injuries as they are humans, the emotional, financial challenges they may have or are experiencing on their quest to stardom, we see in them courage.
It is no coincidence that Jamaica has successfully dominated track n field for over a decade, making history along the way.  We not only have the talent, but also the finest Coaches on Planet Earth.  Our athletes who grace the public arena are young people.  Young people who need the time to grow mentally, emotionally and spiritually to take on all that comes with fame or the pursuit of fame.  We have seen them overcome some struggles.  Many have developed their mindset to be able to conquer, break new grounds and yes through it all represent our country Jamaica.  Through the Olympics we see another side of human nature.  The side that is welcoming, one which brings out the best in all of us as we celebrate each and every one.  Chanting, feeling the pressure, disappointment when those we expected did not make that stage this time.  This is so because we care, we want them to succeed.  The vast majority are from beginnings where financial wealth was not an easy access for them.  Their courage, a few people believing and investing in them has led them to become who they are today.
The future looks bright as long as they continue to have the desire measured with discipline, commitment and dedication.  Retirement comes for us all one day soon.  In a sport such as the ones they pursue retirement can come before they even reach their prime.  With their new found wealth, we are indeed happy for them.  Wishing them every success that comes their way.   Rewards they receive are not only for themselves but I can imagine shared amongst their family and those who loved them before they became famous.  They are deserving of every accolade and Jamaicans in the diaspora and on the Roc can continue to be proud and salivate at witnessing history which many of us may not likely to experience again.
---
#RioGoldRush: Javon Francis anchors Jamaica to superb silver in men's 4X400m relay
(Jamaica Gleaner) Saturday | August 20, 2016 | 9:04 PM
This after the mile relay team of Fitzroy Dunkley, Nathon Allen, Peter Matthews and Javon Francis, finished second in 2:58.16 in the final of the men's 4x400m relay, the final track and field event of the Games.
It is the fourth fastest time by a Jamaica quartet.
The team secured the medal thanks to a superb last leg by Francis, the former Calabar High School star who overtook the runners from The Bahamas and Botswana.
The United States won the gold while The Bahamas stayed on for the bronze.
Jamaica has finished the Games with a total of eleven medals: six gold, three silver and two bronze.
PROFILE – Javon Francis
Age: 21 years old
High School: Calabar High School
Events: Men's 400m, 4x400m
Personal Best: 44.50s
Interesting Fact:
His nickname in high school was 'Donkey Man'
PROFILE – Fitzroy Dunkley
Age: 23 years old
High School: Jamaica College
Tertiary Education: Louisiana State University
Events: men's 400m, 4x400m
Personal Best: 45.06s
PROFILE – Nathon Allen
Age: 20 years old
High School: St. Jago High School
Tertiary Education: Auburn University
Events: Men's 400m, 4x400m
Personal Best: 45.30s
PROFILE – Peter Matthews
Age: 26
Personal Best: 44.69s
---
#RioGoldRush: Women's 4X400m relay team gets silver
(Jamaica Gleaner) Saturday | August 20, 2016 | 8:43 PM
Jamaica has now claimed 10 medals at the Olympic Games in Rio de Janeiro, Brazil after the women's mile relay team won silver in the penultimate track and field event.
The team of Stephenie-Ann McPherson, Anneisha McLaughlin-Wilby, Shericka Jackson and Novlene Williams-Mills finished behind the United States in the 4x400m relay.
The United Kingdom took the silver.
Jamaica's 10 medals at the Games of the 31st Olympiad comprise six gold, two silver and two bronze.
-Livern Barrett
PROFILE – Stephenie-Ann McPherson
Age: 27 years old
High School: Mountain Grace High School
Tertiary Education: University of Technology, Jamaica
Events: Women's 400m, 4x400m relay
Personal Best: 400m – 49.92s
Interesting Fact: Her nickname is 'Chicken Foot'
PROFILE – Shericka Jackson
Age: 22 years old
High School: Vere Technical High School
Tertiary Education: University of Technology, Jamaica
Events: Women's 400m, 4x400m relay
Personal Best: 400m – 49.99s
PROFILE – Novlene Williams Mills
Age: 34 years old
High School: Ferncourt High School
Tertiary Education: University of Florida
Event: Women's 4x400m relay
PROFILE – Anneisha McLaughlin-Wilby
Age: 30 years old
High School: Holmwood Technical High School
Tertiary Education: University of Technology, Jamaica
Event: Women's 4x400m relay
---
#RioGoldRush: The triple king reigns … Bolt anchors Jamaica to 4x100m relay gold
(Jamaica Gleaner) Friday | August 19, 2016 | 9:38 PM
Sprint superstar Usain Bolt completed the triple-triple as he anchored Jamaica to victory over the men's 4x100m relays this evening.
Bolt sprinted from his rivals on the final leg to take Jamaicans to the line in 37.27 and secure his ninth Olympic gold medal.
Bolt has now become the first man in history to win three gold medals at three straight Olympic Games.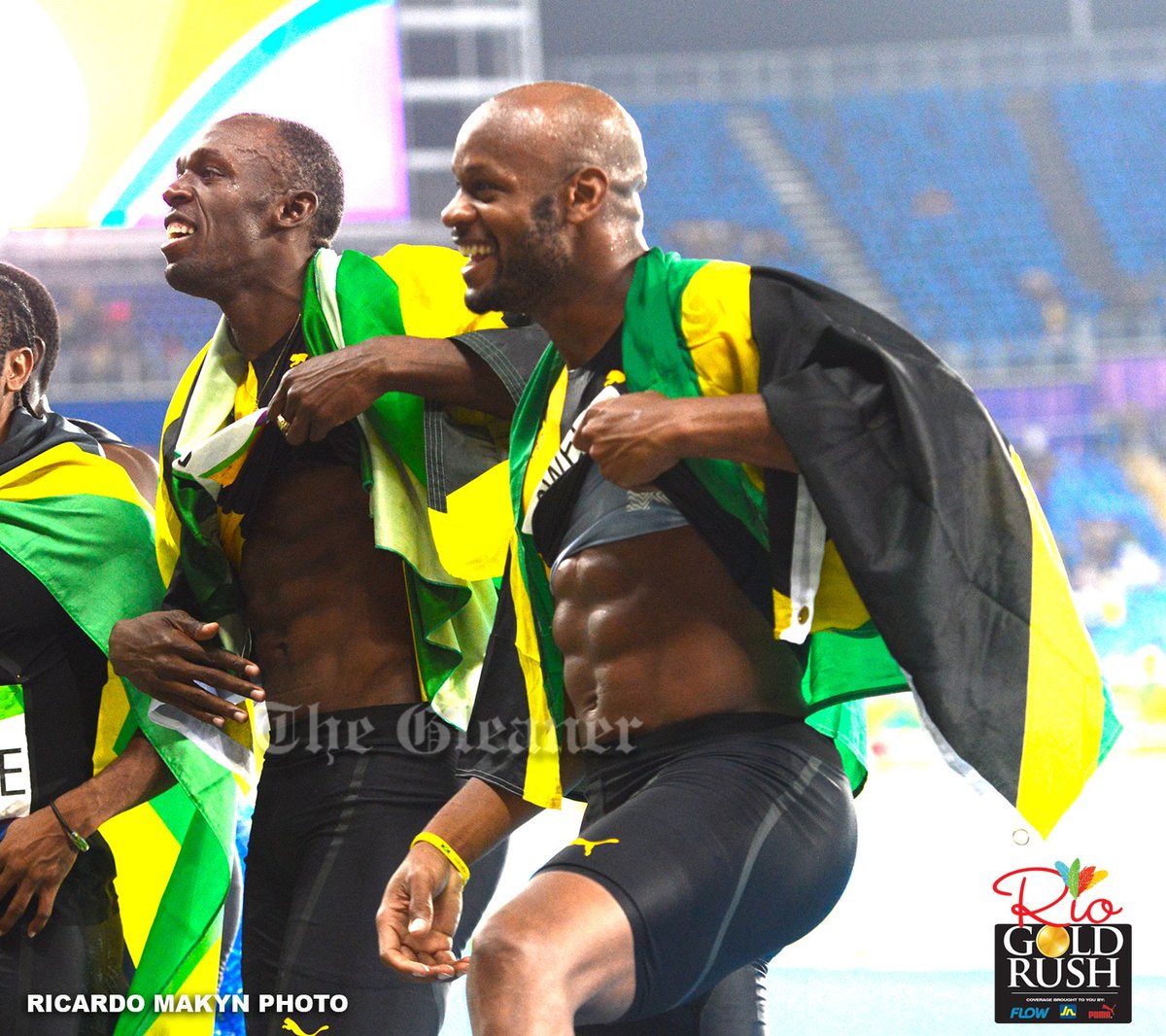 The Jamaicans got off to a quick start with Asafa Powell handing over to Yohan Blake on the second leg.
Blake outran American Justin Gatlin to hand over to Nickel Ashmeade.
The former Jago High School star ran a superb third leg to hand over second to Bolt behind Japan.
---
8th Wonder! – Unbeatable Bolt romps 200m for eighth Olympic gold
Another sprint double – Bolt obliges in 200m and bids farewell to Olympics today
(Jamaica Observer) Friday, August 19, 2016
 Jamaica's Usain Bolt (second left) crosses the finish line to win the Men's 200m final during the athletics event at the Rio 2016 Olympic Games last night. (Photo: AFP)ANTONIN THUILLIER
Rio de Janeiro
, Brazil — Usain Bolt easily captured the men's 200m in 19.78 seconds (-0.5 m/s) and secured his eighth Olympic gold medal while staying on course for an unprecedented 'treble triple' in his pursuit of immortality.
Bolt, who had completed a third consecutive 100m crown on Sunday, did likewise in his favoured 200m, an event in which he has been unbeaten over the last nine years dating back to 2007.
Thoughts of a world record attempt to lower his 19.19secs mark to below the unimaginable sub-19-second video-game time quickly disappeared when the clouds opened up, followed by chilly gusty winds.
Bolt, who is looking to repeat his achievement of winning gold in the 100m, 200m and 4x100m relay at both Beijing 2008 and London 2012 Games, is one step closer.
And as he has done on so many occasions, Bolt entered the arena to loud applause and music, and he obliged with his usual pre-race entertainment. As the camera focused on him during the introductions, the global superstar uttered the words: "Are you ready?" And the fans erupted.
Running out of his favoured lane six, the man from Sherwood Content in Trelawny flew out of the blocks and swept past both France's Christophe Lemaitre and Churandy Martina of the Netherlands in a flash before angling himself around the curve. The race was basically done and dusted and it was then a matter of Bolt against the time.
But the world record was never going to happen as the rest of the pack appeared too close to the far-striding giant. They were six metres behind, headed by Andre De Grasse of Canada, who notched his second medal, this time silver in 20.02 seconds. He had won bronze in the 100m on Sunday.
Lemaitre ran the race of his life for bronze in 20.12secs, and he threw himself to the ground in disbelief. Adam Gemili of Great Britain clocked the same time as Lemaitre, but was denied his first Olympic medal in the photo finish. American hope, LaShawn Merritt felt what real 200m pace was like and faltered into sixth in 20.19 seconds.
But as the time of 19.78 seconds flashed across the infield, Bolt clearly in disappointment, dropped his hands to his side. His legacy was secured, but a world record was not.
"I was not pleased with the time; I really wanted to run faster, even if I didn't get the world record. I wanted to run faster but my legs decided [they weren't] having it. I felt tired, and I lost my form in the last part of the race. It's just one of those things. The key is that I won," Bolt noted.
The 200-metre final went as scripted, as Usain Bolt became the first man in history to win both 100m and 200m titles at three-consecutive Olympics.
Bolt then went through his celebration, proudly wrapped in the black, gold and green flag of Jamaica and a Brazilian flag to boot. He kissed the running track and waved to his adoring fans after competing in his last individual event at the Olympic Games.
"I was just saying goodbye. This is my last individual event at the Olympics. In relays you never know what happens. I just wanted to say goodbye," confirmed Bolt.
It was Bolt's eighth Olympic gold overall. It is Jamaica's fifth gold and seventh medal at the Rio edition. With a population of just under three million, Jamaica climbed into second place on the track and field table, inclusive of two bronze.
The USA lead with 25 made up of nine gold, eight silver and eight bronze. Long distance powerhouse Kenya are third with eight medals, inclusive of four gold and four silver.
On the overall medals table, Jamaica are in 15th position, with USA being the runaway leaders with 100 medals, including 35 gold, 33 silver and 32 bronze. Jamaica have not won any medals outside of track and field.
---
#RioGoldRush: Pure Bolt… Sprint superstar mines third 200m gold, says it could be his last at a major champ
(Jamaica Gleaner) Thursday | August 18, 2016 | 9:19 PM
It is Olympic gold medal number eight for Jamaica's sprint superstar Usain Bolt.
On a damp track in Rio, Brazil, Bolt easily won the men's 200m in a season's best 19.78 seconds at the Games of the 31st Olympiad.
"I wasn't happy with the time. I ran hard off the turn but when I came into the straight, it's like my body would not respond to me. But it's just the rounds, I am getting older, I'm not as young and fresh. I just excited that I got the gold medal and that is the key thing, " Bolt told the BBC One.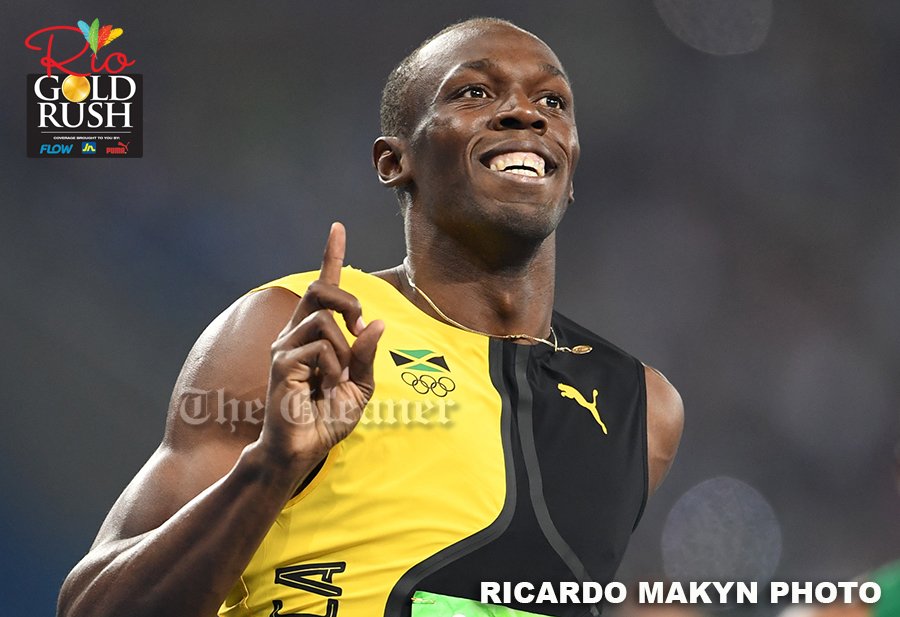 Bolt also hinted that this could be his last 200 metre at a major championship.
"My coach has a way of trying to convincing me, but personally this I think is my last one," Bolt said.
Canada's Andre De Grasse won the silver while France's Christophe Lemaitre captured the bronze medal.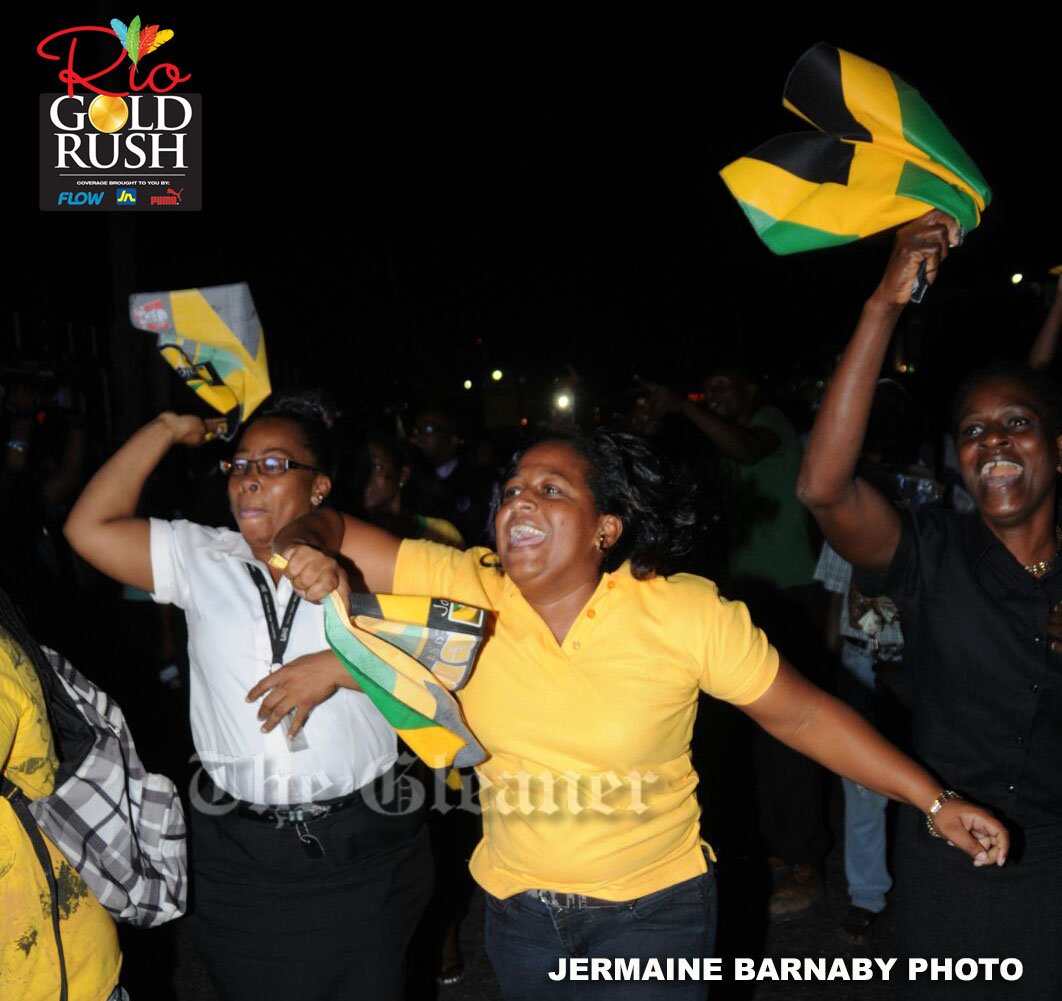 IN PHOTO: Athletics fans in Half-Way Tree celebrating Bolt's golden run 
With the victory, the Jamaican becomes the first athlete to win the sprint double at three consecutive Olympic Games.
Bolt also won the sprint double at the Olympic Games in Beijing in 2008 and again at the London Games four years later.
He also remains on course to winning an unprecedented third consecutive sprint triple at the Olympic Games when he competes as part of Jamaica's 4x100m relay team, which has already advanced to the finals.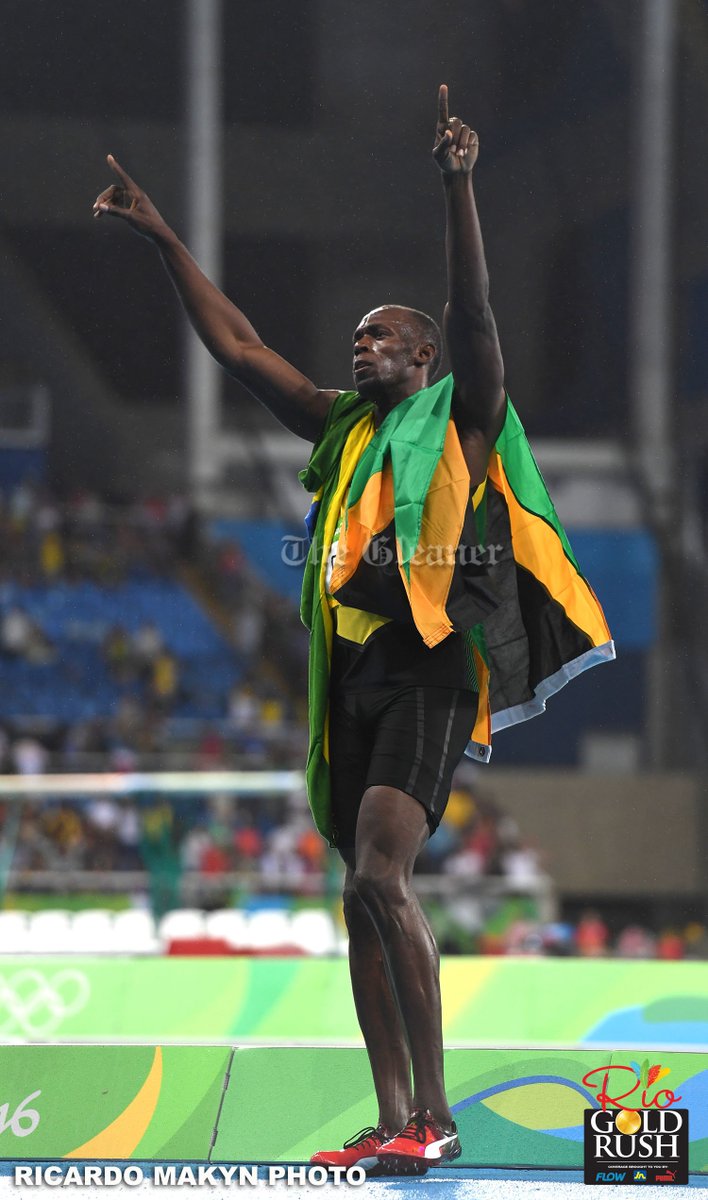 PROFILE – Usain Bolt
Age: 29 years old
High School: William Knibb Memorial High School
Events: Men's 100m, 200m, 4x100m
Personal Best: 100m – 9.58s, 200m – 19.19s
Interesting Facts:
His nickname is 'Lightning Bolt'
In the 2012 Olympic Games, Bolt became the first athlete in history to win the 100m and 200m sprints at successive Olympic Games
---
Brilliant! – History made as McLeod mines Olympics gold in 110m hurdles
(Jamaica Gleaner) Wednesday | August 17, 2016 | 12:00 AM
 Omar McLeod revels in his accomplishment of winning the 110m hurdles on Tuesday night at the Olympic Games in Rio de Janeiro, Brazil. (Photo: Bryan