'Sorry about that' says Bolt to his fellow Jamaicans…………..
Jamaica gleaner retweeted@ Andre Lowe .  After booking his spot in the 100m final, Bolt's only concern was if Blake had also qualified. "Wah Blake do?" "Him good." "Aaah Good.".
@jamaica gleaner
Justin Gatlin: "Win or lose, Usain is the man. Without him in the sport, where would it be?" #London2017
The tears flowed due to the expectation that gold is synonymous with Usain Bolt.  The realisation that this is actually 'it', and no more will he grace our presence with his spectacular performance.  He created history……………done.  He did not receive gold, yet somehow you could not tell as his graciousness, presence, engagement with the fans even after defeat says more about who Usain Bolt has grown to become………….class act.
There has not been a race since his illustrious career where we have not been on edge, on our toes, so we know he did his absolute best and after all is said and done he is still the G.O.A.T in this sport.    A clean sprinter, devoid of any drug scandal has redeemed the sport where we can believe it is truly possible to be super-fast without performance enhancement drugs.  Recovering from injury after injury to dominate and create a global space for himself where 8 out of 10 people world-wide know him; I opine is more than an achievement.  His confidence for some maybe deemed arrogance, I beg to differ.  If you take a look at his engagement with those who love him, the fans, you will see in victory and defeat he makes time for them and certainly looks pretty much the same.  How does he do it??????
Disappointed he is, sure, understandably so, but WILL never be defined by this race and certainly NOT by his victor in this race.  I believed he wanted this win for countrymen and his global fans.  He never wavered about his retirement………….it was about, 'OneLastBolt'.  There lies my tears, tears of joy as I was able to witness in my lifetime greatness in track n field by this youngster now grown in exposure and experience, born and bred on the Roc.  One more race to go, one more time for me to get exhilarated, then the curtains will go down………….. 
Disclaimer
—————-
All information provided on this blog is read by you of your own risk.  Any material extracted it is done of your own free will.
I am the legal copyright owner of the  material provided on this blog. Therefore such cannot be used, reprinted without the consent of the owner  The material provided is purely for entertainment purposes and not recommended for readers to treat as gospel.  Information that is not of my opinion is readily available as the source of content is accessible.  I reserve the right to shut down this blog, change the focus at my discretion.  At no time will I share personal contact information to any entity, company or platform. 
Any letters to the editor, tweets, emails will be used as feedback, reference for commentary  if deemed necessary.  The writer of those will be the owner.
Email fireicedsa@hotmail.com with your comments
==================================================
#London2017: Gatlin stuns Bolt to win 100m world title
(Jamaica's Usain Bolt poses after taking third in the final of the men's 100m athletics event at the 2017 IAAF World Championships at the London Stadium in London on August 5, 2017).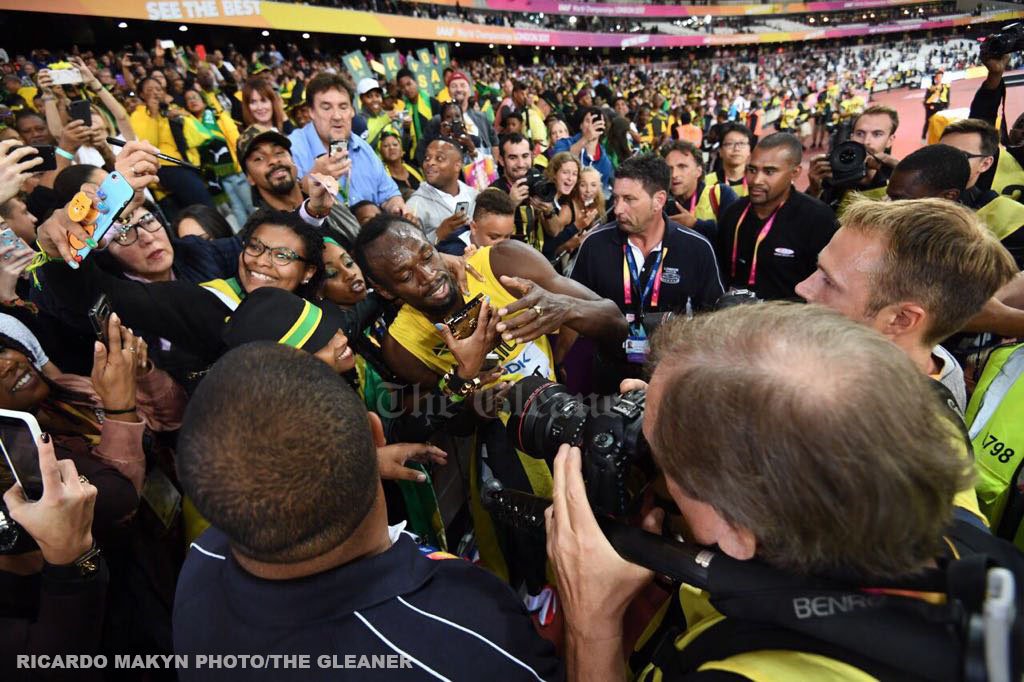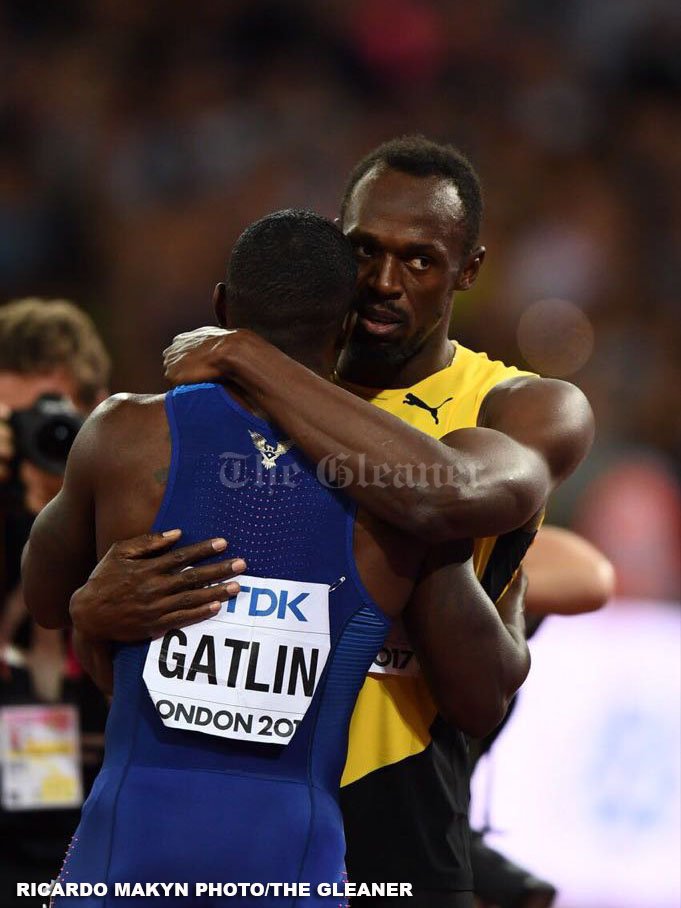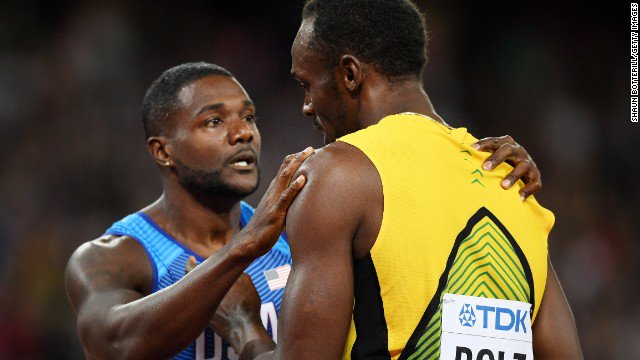 US athlete Justin Gatlin (L) bends down to Jamaica's Usain Bolt after the final of the men's 100m athletics event at the 2017 IAAF World Championships at the London Stadium in London on August 5, 2017.
LONDON, United Kingdom (AFP) – American veteran Justin Gatlin was booed after he stunned Usain Bolt to win the 100m world title in London on Saturday.
Gatlin, who served a doping ban between 2006-10 and won silvers behind Bolt at the last two world championships, clocked 9.92 seconds, with teammate Christian Coleman winning silver in 9.94sec.
Bolt suffered a dreadful start and could only claim bronze in 9.95sec.
"I'm sorry I couldn't end it on a winning note, but I want to thank you for your support," said Bolt, who embraced Gatlin after they streaked through the line with no clear victor immediately apparent.
"It's been a wonderful experience as always."
Gatlin was afforded the same rough reception as he had in the heats and semi-finals, loud boos and jeering ringing around the same stadium where in 2012 his rivalry with Bolt was presented as 'good against evil', given the American's doping-tainted past.
But Gatlin has form as the last man to beat Bolt over 100m — by a hundredth of a second in Rome in 2013 — and at the age of 35, can still produce the goods, something he has in the past ironically credited with his four years of forced exile from the track.