Take your bow Usain Bolt…………..you are firmly seated amongst the greats of our times, Muhammad Ali, Bob Marley and others who have captured.  Captured the hearts of millions of people around the world.  It is one thing to have raw talent.  Another thing to be able to execute and to put your money where your mouth is repeatedly.  You have done just that and through it all have brought people from all nations, nationalities, cultures and class together in oneness.  Loving you, being in awe of your ability to consistently over twelve years be able to raise your bar when it matters the most.  Not only to you, but to your loving fans. In a sport where performance enhancement drugs have marred the trueness, rawness in talent of so many athletes.  We are even more astounded by your performance knowing that you did not fall prey whether intentionally or unintentionally. What a fine way to take your last bow at an Olympics as you have made the world know Rio will be your last.
It cannot be denied.  It cannot be challenged.  It cannot even be disputed.  Usain Bolt, the ultimate show stopper, the man who engages the world once he makes an entrance.  He owns every event he takes on.  His presence is felt, he knows he has a responsibility to be the best he can be and he recognises his fans expects nothing less.  With that, he acknowledges ALL.  The Creator, his fans and himself.  He can and he has earned it.  He struts, he thumbs his heart, he is proud of his country and we can see that.  The world sees this and through Usain Bolt, Brand Jamaica is always re-established on a different level.  He is the greatest athlete we have seen in track n field and might be the last for many of us in this life time.  How can you not be in awe of such a man?????
On our journey called life, when you are able to witness history, it can take a few seconds, days or even weeks to fully comprehend what it all means.  There are those of us whose journey is to conquer on a global scale.  We all will not chart the same course, neither will we all have the same flight plan.  What we all will be able to do as long as we can SEE is to acknowledge the legendary status that Usain Bolt has earned.  He truly is one of a kind.
---
 RIOGOLDRUSH: USAIN BOLT REWRITES HIS STORY IN 9.81 SECONDS
(Jamaica Gleaner) Sunday | August 14, 2016 | 8:39 PM
Ryon Jones, Staff Reporter
The indomitable Usain Bolt once again engraved his name in the history books and endeared himself to track and field fans around the world after becoming the first athlete to win three consecutive Olympic 100m titles.
Bolt recovered from his usual slow start to secure Jamaica's third medal of the 2016 Rio Olympics when he stopped the clock in a season's best (SB) 9.81 seconds to win the men's 100m final.
The silver medal went to America's Justin Gatlin in 9.89 seconds with Canadian Andre de Grasse taking the bronze in a personal best of 9.91 seconds.
Jamaica's other representative in the final, Yohan Blake, was fourth in a SB of 9.93 seconds.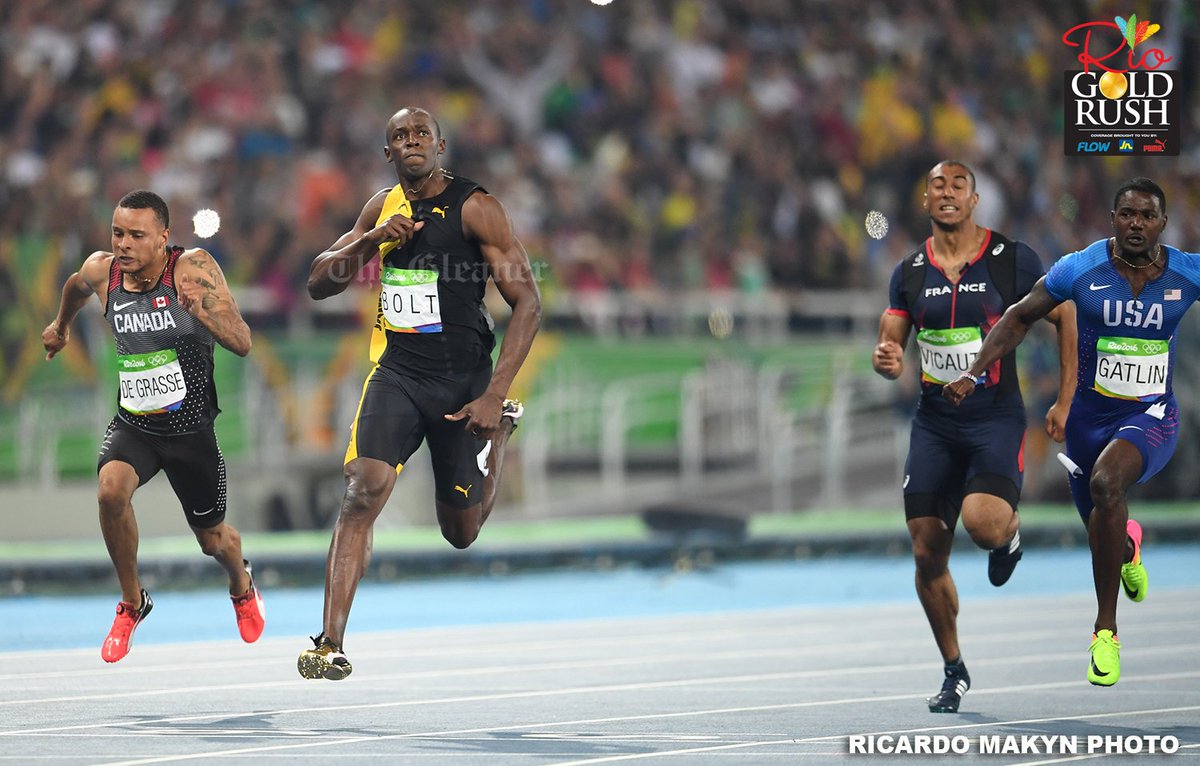 Bolt, who has reiterated that this will be his last Olympics, will be looking to make it a triple-triple having also won the 200m and 4X100m at the last two Games.
He has now won 12 individual major championships gold medals-five at the Olympics and seven at the World Championships.
PROFILE – Usain Bolt
Age: 29 years old
High School: William Knibb Memorial High School
Events: Men's 100m, 200m, 4x100m
Personal Best: 100m – 9.58s, 200m – 19.19s
Interesting Facts:
Bolt made his Olympic debut as a 17-year-old at Athens 2004, where, hampered by a torn hamstring, he went out in the opening round of the 200m.
He is the first athlete to set three world records in a single Olympic Games competition.
In the 2012 Olympic Games Bolt became the first athlete in history to win the 100m and 200m sprints at successive Olympic Games