Our Athletes always place us on the International map where the reference is continuously made about the 'gifts' that we have on our soil.  If only those who have the autonomy can take this Country to higher heights as our athlethes do each and every time.  One can only hope that our short sightedness will be overcome by what is staring us right in the face and that is the power of truly branding our athletes by paying them what they derserve, then marketing them through Brand Jamaica far and wide.
We ended the Championships ahead of the mighty USA in gold medals with Usain Bolt being the only athlete to have won two (2) individual gold medals.  Do you really appreciate and comprehend this feat?
---
FULL LIST: Jamaican winners, 2015 World Championships medal table
(Jamaica Gleaner)

Sunday | August 30, 2015
Jamaica has ended the 2015 World Championships with 12 medals – seven gold, two silver and three bronze. This is one fewer than the 2013 Moscow haul of 13 medals.
Usain Bolt is the only athlete with two individual gold.
SEE THE LIST OF THE JAMAICAN MEDALLISTS BELOW:
Usain Bolt: 100m, 9.79 – Gold
Shelly-Ann Fraser-Pryce: 100m, 10.76 – Gold
Usain Bolt: 200m, 19.56 – Gold
Danielle Williams: 100m hurdles, 12.57 – Gold
4X100m men (Asafa Powell, Usain Bolt, Nickel Ashmeade, Nesta Carter): 37.36 – Gold
4X100 women (Veronica Campbell-Brown, Natasha Morrison, Elaine Thompson, Shelly-Ann Fraser Pryce): 41.07 – Gold
4X400 women (Christine Day, Shericka Jackson, Stephenie-Ann McPherson, Novlene Williams Mills): 3:19.13 – Gold
Elaine Thompson: 200m, 21.66 – Silver
Hansle Parchment: 110m hurdles, 13.03 – Silver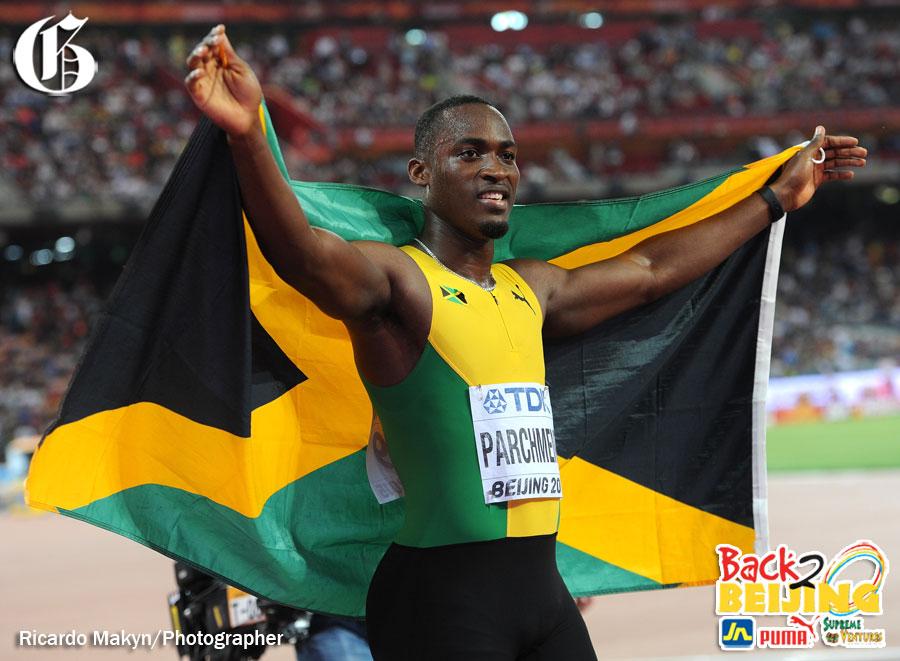 Odayne Richards: Shot put, 21.69 – Bronze
Shericka Jackson: 400m, 49.99 – Bronze
Veronica Campbell-Brown: 200m, 21.97 – Bronze
FULL LIST: THE MEDAL TABLE
1 Kenya – 7 Gold, 6  silver, 3 bronze. Total: 16
2 Jamaica – 7 Gold 2 silver,  3 bronze. Total: 12
3 United States – 6 Gold , 6 silver, 6 bronze. Total: 18
4 Great Britain & N.I. – 4 Gold , 1 silver, 2 bronze. Total: 7
5 Ethiopia – 3 Gold, 3 silver, 2 bronze. Total: 8
6 Poland – 3 Gold, 1 silver, 4 bronze. Total: 8
7 Canada – 2  Gold, 3 silver, 3 bronze. Total: 8
7 Germany – 2 Gold,  3 silver,  3 bronze. Total: 8
9 Russia – 2 Gold, 1 silver, 1 bronze. Total: 4
10 Cuba – 2 Gold, 1 silver. Total: 3
11 People's Republic of China – 1 Gold, 7 silver, 1 bronze. Total: 9
12 The Netherlands – 1 Gold, 1 silver, 1 bronze. Total: 3
13 South Africa – 1 Gold, 2 bronze. Total: 3
14 Belarus – 1 Gold, 1 bronze. Total: 2
15 Colombia – 1 Gold. Total: 1
15 Czech Republic – 1 Gold. Total: 1
15 Eritrea – 1 Gold. Total: 1
15 Spain – 1 Gold. Total: 1
15 Slovak Republic – 1 Gold. Total: 1
20 Australia – 2 Silver. Total: 2
20 Croatia – 2 Silver. Total: 2
22 Bahamas – 1 Silver, 1 bronze. Total: 2
22 Trinidad And Tobago – 1 Silver, 1 bronze. Total: 2
22 Ukraine – 1 Silver, 1 Bronze. Total: 2
25 Belgium – 1 Silver. Total: 1
25 Brazil – 1 Silver. Total: 1
25 Egypt – 1 Silver. Total: 1
25 Israel – 1 Silver. Total: 1
25 Tajikistan – 1 Silver. Total: 1
25 Tunisia 1 Silver. Total: 1
31 France – 2 Bronze. Total: 2
32 Bosnia-Herzegovina -1 Bronze. Total: 1
32 Bahrain – 1 Bronze. Total: 1
32 Finland -1 Bronze. Total: 1
32 Greece -1 Bronze. Total: 1
32 Grenada -1 Bronze. Total: 1
32 Japan -1 Bronze. Total: 1
32 Kazakhstan -1 Bronze. Total: 1
32 Latvia -1 Bronze. Total: 1
32 Morocco -1 Bronze. Total: 1
32 Portugal -1 Bronze. Total: 1
32 Serbia -1 Bronze. Total: 1
32 Uganda -1 Bronze. Total: 1